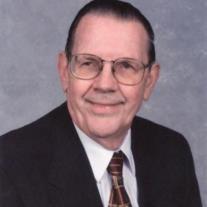 ROBBINS, ROBERT JOHN, 89, of St. Petersburg passed away the morning of September 1st, 2015 at Inspired Living at Ivy Ridge. Robert was born in St. Petersburg and was a lifelong resident. He was a graduate of St. Petersburg High School, Class of 1944, and enlisted in the US Army shortly after graduating. Robert spent 2 years in the European Theater during WWII as an infantryman.
He is preceded in death by his parents, Harry F., Sr. and Hazel B. Robbins; sister, Doris Jean Robbins; nieces, Lynn Perry and Sharon (Robbins) Simmons.
Robert is survived by his loving wife of 66 years, Betty Lou; brother, Harry F. Robbins, Jr; sister Margaret R. Perry; nephews, Brian Perry, Todd (Donna) Robbins, all of St. Petersburg, and Verlie Simmons of Pinellas Park.
He was a lifetime member of The First Baptist Church of St. Petersburg and an ordained deacon. Robert served in many different Sunday School classes throughout the years as secretary, a position he thoroughly enjoyed.
Upon returning from the war, he worked in the family blueprinting business, St. Petersburg Map and Blue Print Company, retiring in 1991.
Robert was a blood donor, an avid bowler, and a diehard Tampa Bay Rays fan.
His hobbies included gardening, especially working with orchids and roses.
Services will be held at Memorial Park Funeral Home & Cemetery, 5750 49th St. N. on Friday September 4th. Visitation at 1pm, Funeral Service at 2pm, Interment at 3pm.
In lieu of flowers, his family requests memorials be made to The First Baptist Church of St. Petersburg.